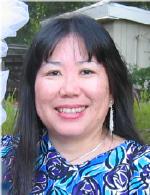 Welcome! I'm a Japanese American born in Los Angeles. My background is in information technology with a special emphasis in systems analysis and database application development. I live in Silicon Valley and graduated from the University of Southern California.

Hobbies and Interests:
True to my Southern Californian spirit, I love the beaches
Travel: Bermuda, Europe, Hawaii, Caribbean, Japan
Downhill skiing at Lake Tahoe, Colorado, Utah, Austria-Zell Am See, Mammoth Lakes
Trojan Football: Beat UCLA!

Pure Luck? During my high school years, I questioned the meaning and purpose of life. God, do you exist? Are you up there somewhere? Why am I here? One day, I read The Cross and the Switchblade by David Wilkerson, a true story about his life and belief in a personal God. Whenever he prayed, he received answers. Whenever I prayed, nothing happened until . . .
I sat on the hardwood floor, leaning against my bed and listening to the popular Los Angeles radio station KRLA, which was having hourly call-in contests. If you happened to be the "nth" caller, you won a prize. I silently asked God, "If you exist, show me by letting me win." I shuffled over to the phone, dialed the number once, and heard the phone ring.

A lady answered the phone. "Congratulations, you're the tenth caller. You won a B. B. King album."
"I won?" My mouth froze wide open. After a short delay, I heard myself scream over the airwaves. God heard my prayer?

Moments later a disturbing thought jarred my mind. You were just lucky! God doesn't exist. You were bound to win sooner or later.

"God, if you really exist, let me win again."

During the next round of the contest, I called again. The same lady answered the phone, "Congratulations, you're the seventh caller. You won the B. B. King concert tickets."

Twice in one day! I almost dropped the phone. Then a harsh voice blared inside me. That was just luck.

The next day that disdainful inner voice returned. God doesn't exist. You're lucky. A fierce tug-of-war ensued inside me. Lingering doubt prompted me to try it again. I gawked in utter disbelief when I won a third time--this time, a Traffic album.

I had periodically gone to a Christian church that a neighbor invited my family to. But I became bored and quit going when I started high school. "God, do you want me back in church? If so, let me win the contest again." I shrieked when I won a fourth time--a pair of Traffic concert tickets.

The disc jockey announced, "Didn't you just win? For some reason, some people win more than once. It's so amazing!"

Within minutes that antagonizing voice shouted. You're lucky! How can God be everywhere?
That same day, I pleaded, "God, just one more time." I was flabbergasted when I won a fifth time.

Imagine winning five times in two days on a popular radio station in Los Angeles. What are the odds of something like that happening?

Bob and I are co-authors of two inspirational books, Popcorn Miracles and Kernels of Hope. Be sure to check out the book trailers.