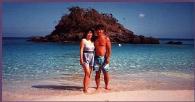 U.S. Virgin Islands consist of three main islands, St. Thomas, St. Croix, and St. John and many small islets. St. John is just across the sea channel from the more densely populated St. Thomas. Two-thirds of St. John is a USVI. National Park, formed out of land that once belonged to the Rockefeller family.
Under crystalline blue skies Gail and I basked in the tranquility of St. John, US Virgin Islands. The warm, azure waters washed our feet as we waded through the gentle waves. The unhurried pace and friendly banter with the locals were a welcomed respite from our hectic Californian lives. What a relaxing spot! Everything was perfect until . . .
One evening, we strolled down to the swimming pool to view the glistening harbor lights. After we sauntered back to our unit, I fished through my belt pouch and pockets for the key but couldn't find it. All week I had used extreme caution putting the key away. I peered through the kitchen window and saw the key sitting on the counter. "Oh, No! There's no night manager. How will we get in?"

The Key.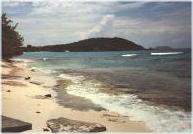 Hawknest Beach is the first large beach you encounter as you drive Northeast from Cruz Bay. The snorkeling is quite nice with many colorful fish and coral. Sometimes the surf can be kind of rough, because this beach is exposed to the Atlantic Ocean. The roads are very hilly and have many tight hair-pin curves. A 4-wheel drive vehicle comes in handy. The terrain offers some spectacular views.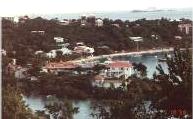 Cruz Bay is the major port and town on St. John. One might say that it's the only port and town on the island. But on the eastern side is Coral Bay, which consists of a few dive shops, souvenir huts, and Serephina Restaurant (very good!).
Cruz Bay also has a number of good restaurants and cafes, including the Fish Trap, Lime Tree Inn, and Asolare.
C a n e e l B a y