The Timeshare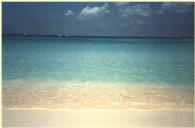 Turquoise waters lapped against Seven Mile Beach's fine white sands under incandescent blue skies. Neck deep in water as clear as a swimming pool, Gail gushed, "Look, I can see my toes! There's tiny fish skittering around."

Smiling, I donned my snorkel mask and fins and swam in the warm water while surrounded by bright coral and exotic fish.

We had first visited this gem of a beach on a one-day visit to Grand Cayman Island during a Western Caribbean cruise. This time we came back for a week's stay at the Holiday Inn, nestled on the widest strip of Seven Mile Beach.

Scenes from the movie The Firm, featuring Tom Cruise and Gene Hackman, were shot at both this hotel and the Hyatt down the street.

We milled through the shops in Georgetown, the capitol, and sampled the island's freshly baked Tortuga Rum Cake. Yum! Store items were quite pricey as one might expect in a tourist area. It felt even more expensive because one US dollar converted to roughly eighty cents in Cayman money. Cayman dollars used the same "$" symbol as US dollars, adding to the confusion.

Shops and restaurants displayed invitations to visit timeshare condominiums and offered cash incentives. By the third day, Gail ceded. "Let's attend. The gift will defray some of our expenses." We signed up for a meeting, vowing not to buy.

A personable and glib salesman flashed a magnetic smile and chatted with us before launching into his spiel. He then took us on a tour to see the unit and the rest of the sun-splashed resort.
When we returned, he crowed, "Grand Cayman is the ultimate location, and I have the perfect, discounted timeshare for you." He leaned forward in his chair and asked us point-blank, "Do you want it?"

My mouth tightened, and I glanced at Gail who looked like she was about to say yes.
Seeing that we didn't answer right away, he added, "Talk things over in the lobby. Take your time and let me know."

We made our way to the lobby. "This sounds really good," Gail said. "Should we do it?"
"Ah, yeah . . . uh, no . . . I thought we weren't going to do this."

"Jesus, please guide our decision," she prayed. We looked at each other and reasoned, "Why not?"

We stepped back into the salesman's office. "We'll take the timeshare," I said. He flashed a high-voltage smile and shook our hands. We signed the sales contract and paid half of the total with our credit card.

We revisited the property later that afternoon. Gail peered through the front window facing the beach. "You can hardly see the ocean." Then it dawned on us that future developments will obstruct the view altogether. We sauntered across the street and were disappointed to see a rocky stretch of the beach littered with broken glass, cans, and bottles.

That evening I thumbed through the worldwide timeshare exchange catalog. "The trade properties seem to be in remote locations." I scanned the contract and became disenchanted. "This timeshare doesn't include a real estate deed and is strictly a club membership. I think we made a mistake."

"We shouldn't have rushed into this," Gail lamented.

The following morning, I called the salesman. "I'm afraid I can't rescind the contract," he said.

"But aren't we entitled to the three-day buyer's remorse period?"

"That only works in California. Grand Cayman is British territory."

Crestfallen, I put the phone back in its cradle. Gail and I joined hands and prayed. "Dear Lord, please help us out of this mess . . ."

I contacted the credit card company in New York City to cancel the charge, but they required a credit memo. Then I called the sales office again and asked for the owner.

"The only person who might rescind the contract is the business manager," the salesman said. "But he's away at a meet--ing in Las Vegas and isn't due back until tomorrow."

The following day, the receptionist answered the phone. "The business manager left Las Vegas, but he's stuck in Mexi-co with aircraft engine problems. Check back tomorrow."

"Engine problems?" Gail's mouth formed an oval. "What else can go wrong?"

In spite of our dampened spirits, we tried to make the best of it. That night we dined by the water's edge and listened to a live band playing reggae and calypso music. Gentle waves broke on the beach. We watched the sun descend into the sea, painting a kaleidoscopic sunset of saffron, fuchsia, and pinkish-orange colors.

The day before our departure, we prayed again, fully committing the situation into God's hands. An unexpected calm descended upon us. We toured the island one last time. When we returned to our room, the phone message light was blinking. "I bet that's the salesman," Gail said with excitement in her voice. I pressed the message button and sure enough, it was him.

"The business manager is back," the salesman said. "I scheduled an appointment for you to meet with him at ten o'clock tomorrow morning."

I put the receiver down with a glimmer of hope. "I can't believe it--we're having that meeting after all. That's just three hours before our flight home."

The following morning, the business manager shook our hands and warmly greeted us. He gestured for us to take our seats. "Why do you want out of the timeshare?" he asked in a professional manner.

We humbly explained our reasons.

After a long pause, he said, "I don't want to obligate you with something you don't want." He released us from the contract and returned our deposit.

Wow! Just in time, Lord!
Rise up and help us; redeem us because of your unfailing love. (Psalm 44:26 NIV)
~ Bob Kaku
My wife and I are authors of Popcorn Miracles and Kernels of Hope. Check out the trailers.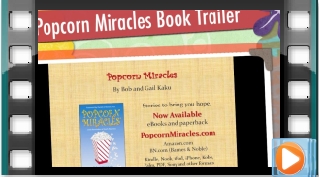 . . . .