Velden - Travelling North from Venice, Italy, we crossed the border into Southern Austria and stayed at a nice bed and breakfast hotel in Velden (pronounced "Felden") located on the Western end of Lake Worther in the province of Carinthia or Kärten. This resort town reminded me of a very picturesque park. Vibrant flowers hung below window sills from homes and cottages. Austrians greeted each other with "Grüsse Gott" equivalent to "Guten Tag," or "good day." Outside of town, a beautiful golf course is set in the countryside. Very few American tourists know about this place. It's a favorite summer spot for many Europeans. Fall is less crowded with cooler temperatures than summer month.
Maria Worth - We took a boat tour to a little cape, Maria Worth, on the southern side of Lake Worther. We visited a lovely church with a stunning floral garden. All around were beautiful vistas of the shimmering lake with swans swimming and quaint little houses sitting on the surrounding hillsides.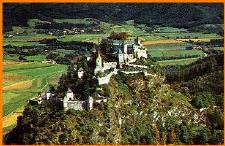 Hochosterwitz Castle - We took a day trip to St. Veit, (pronounced St. "Feit"). With no buses or taxis running in October, we walked a lot and clambered up the imposing hill. Viewing the castle from afar I was reminded of knights, damsels in distress, and fire-breathing dragons. Inside the castle were some guided tours, but they were in German. The concession stand sold our familiar Coca-Cola, which we badly needed after climbing several hundred feet.