We cruised Western Canada and Alaska aboard the Princess liner, Sea Princess ship. In July, the sun doesn't set until half past eleven.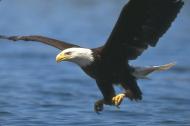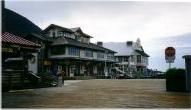 Bald eagles were a common sight in the Alaskan skies.
We first stopped at Ketchikan. Souvenir shops lined the downtown streets.
Internet cafes in both Ketchikan and Skagway were packed with people.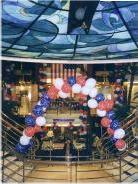 We celebrated Independence Day aboard the ship lined with flags, festive and patriotic decor.

U.S. maritime law does not allow cruise ships to embark and disembark from American ports unless they are manned by American crewmen. British officers and a very international crew embarked from Vancouver B.C. and disembark at Seward, Anchorage, Alaska. We sailed through Inland Passage, a narrow body of water between the Canadian mainland and continuous line of offshore islands. The Inland Passage were relatively calm as compared to the open ocean.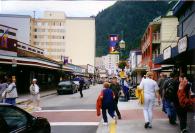 Juneau, the capitol, with a population of around 30,000 was our next stop. Blue skies and mild weather greeted us. It is accessible only by sea or air. It is 5 time zones away from the Aleutian Islands, the western-most part of the State of Alaska.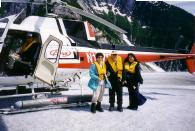 We toured the city by helicopter to a nearby glacier. Desolate and snow-covered mountains and icefields were awesome. Standing on top of the glacier ice, it was about 70 degrees Fahrenheit
Below are some pictures taken on the glacier.