Corsica is a large island North of the still larger Italian island of Sardinia. Corsica is closer to the Italian mainland than to France. But it is actually a province of France. In fact, Corsica is best known as the birthplace of Napoleon Bonaparte, the famous French conqueror of Europe of the late 18th and early 19th centuries. Corsica has both French and Italian heritages and both languages are spoken. Towns and places have Italian-sounding names like Ajaccio, Bonifacio, and Santa Giulia. Corsicans like to think of themselves as being independent of France.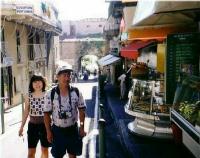 Porto Vecchio is a lovely and quaint little city on top of a hill, about a kilometer away from the harbor with very little to do other than shop at a few gift shops. Most of the cafes were closed on Saturday and we had trouble finding a public restroom. Not even the pay toilets were available. We returned to the ship to use the restrooms.


The Corsican Taxi
Gail wanted to go to Santa Julia and Palombaggia, two beaches along the Southern coast that the tourism office recommended. The problem was how to get there. No buses went there and only a few taxis were available. The crew had warned us about the shortage of taxis on weekends.
After lunch, we went a Hertz rental car office. But it was closed for a siesta until 3:30. Our cruise departed at 5:00. So, renting a car was impractical, especially if we had to find our way to the beaches and back.
Our next option was to search for a cab. One person suggested that we try to catch one from a main hotel. Since I hadn't seen any taxicabs in town all day, I wasn't very hopeful. Gail prayed, "Jesus, please help us find a taxi." As we sauntered down the street, moments later, a taxi stand came into view. When we arrived, the lot was vacant. In fact, a barrier stopped taxis from going into the waiting area. We walked through the barrier and something prompted me to turn around. Directly behind us was a Mercedes taxi that appeared out of nowhere!
The driver spoke very little English. We communicated by pointing on a map.
Thank God we didn't rent a car! I wouldn't have been able to find these beaches with the limited amount of time that we had. The directions on the main roads were well marked. But once we got off of them, we wouldn't have known where to turn.
We stopped at Santa Julia. What a beautiful beach, rivaling those in Bermuda or the Caribbean. Brilliant, clear turquoise waters lapped gently upon fine white sand beach. We took a few snapshots and hurried back to the taxi. We would have loved to spend several hours there.
Off we went to Palombaggia. This half-moon shaped beach was nice too, but not as nice as the first. What an amazing day this turned out to be.


A Taxi Joke
A passenger in town and wanted to go back to the cruise ship and hailed a cab. She tried to explain that she wanted to go back to the ship. Since the driver didn't understand any English, she pulled out a postcard with a photo of the cruise ship and pointed to it. The driver nodded affirmatively and prompted her to get into the cab. He then took her to the post office.

Paris | Versaille Palace / Louvre | Nice / Monte Carlo | San Tropez / Corsica