South Shore has many pristine beaches including Warwick Long Bay, Jobson's Cove, Elbow Beach, and Horseshoe Bay. Jobson's Cove is a little enclosed cove in Warwick Parish. It is perfect for children to wade in its shallow and gentle water. The most easterly of the South Shore park is Warwick Long Bay containing 1 km of uninterrupted pink sand. To the West is Stonehole and Horseshoe Bay.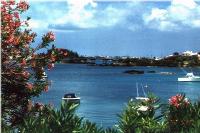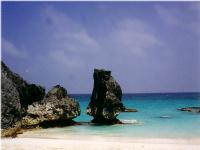 Picturesque Mangrove Bay (left) is on the Western "hook" of Bermuda--a favorite spot for many watercolor artists. The weather was downright cold on our first trip in February with gusty winds and rain. We never unpacked our bathing suits. But, we enjoyed this captivating place nonetheless.
We returned to Bermuda in early June. The temperatures were (75°-80° F) and much nicer. Sea colors were even more beautiful. A lot more tourists visit during the summer.

Bermuda is a prosperous country--a British colony with an autonomous government. Multiple ethnic groups reside on this island. Descendants of African slaves from the 17th-19th centuries comprise the majority. Tourism and insurance companies create a strong economic presence. The lack of income taxes entices Fortune 500 companies to set-up shop in Bermuda. There is little to no unemployment, a 100% literacy rate, and the third highest per capita income in the world. The capitol city of Hamilton is very clean and devoid of seedy storefronts, and other questionable establishments.

Bermudians are extremely polite and courteous people. In town, Bermudan business people are smartly dressed. Some businessmen combine their conservative and stylish dress shirts, ties, and dark blazers with (you guessed it) Bermuda shorts and knee-high socks. Curious to us, but it's normal dress in Bermuda.

Bermuda has eight championship golf courses. Stunning panoramic views of the Atlantic Ocean can be seen. The picture to right is Castle Harbour.